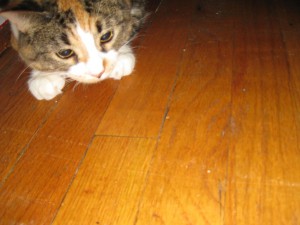 About a year ago I went to see the fine folks at the Loyola Health Center complaining of night time wheezing and shortness of breath when riding bicycles in sub 20 degree temperatures. After the standard pregnancy test, I summited Mt. Nerdom and was prescribed an albuterol inhaler. The 'health care professional' warned: "this does not necessarily mean you have asthma."
In the interim I've used the inhaler an average of once a month. However, all usage stopped during my time in Bloomington and quickly picked up after returning to Chicago. Accompanying my most recent difficulty breathing is the standard allergy-based runny nose. I now suspect Alice the Cat (see above) is the source of these problems. In an attempt to alleviate my nasal symptoms I've tried the usual claritin but have also resorted to a netipot:
Do not be fooled by the pleasant music. This is the nasal equivalent of water boarding. And though the device does seem to work, the "see also: douche" in the wikipedia article on nasal irrigation is quite revealing.
I fear I must soon return to the doctor to find a more comprehensive solution. Sebastian will not allow me to turn Alice the Cat into Alice the Stirfry, and I am not excited about the prospect of washing her once a week to reduce dander output. With any luck, some pharmaceutical miracle can restore the cat-man balance while producing interesting side effects (I'm rooting for mood-swings and irritability).